Co-founder, IndiQube
Director & Co-Founder, CareerNet Consulting
Co-Founder, HirePro Consulting
B.E, Electrical, IIT Roorkee, Class of 1997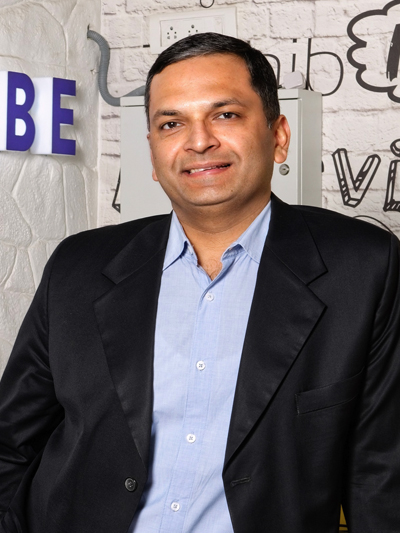 Rishi Das is an accomplished industry leader and a well-recognised entrepreneur. His interest in diverse sectors has led him on a journey of growth across talent acquisition, HR management & commercial real estate. This exposure has helped him create great value through the companies he has set up, namely CareerNet, HirePro & IndiQube.
At the turn of the millennium, Rishi conceived CareerNet as a highly differentiated recruitment platform to serve the rapidly emerging Indian technology industry. Under his leadership, CareerNet has grown to become one of the largest talent acquisition companies. Today, with over 1000 employees, CareerNet is a market leader in Recruitment Process Outsourcing & surpassed 20 successful years.
His second venture, HirePro Consulting, was established in 2004 with the vision of making hiring frictionless. Today, HirePro is the sole recruitment technology company which automates the complete hiring lifecycle from sourcing to screening, assessments, interviews, offer management, on-boarding, employer branding & candidate experience management for enterprises across industry verticals.
IndiQube, Rishi's 5 year old venture, is set on the same path of growth, as a company much closer to his heart because it reaches out to fellow entrepreneurs and adds value to their growth journey. IndiQube, today, is one of the leading managed workspace providers in the country with over 3.5 Mn SQ.FT. of cumulative office space spread across 6 cities, offering accessible, affordable and personalized workspaces keeping employee delight at the heart. IndiQube provides a unique Office-In-A-Box solution encompassing workspace design, interior build out and a plethora of B2B & B2C services leveraging technology. In a short span of time, under Rishi's leadership, IndiQube has been ranked in top 20 in India's fastest growing companies in Economic Times India's Growth Champions. The company has also been featured in 500 high growth companies in Asia Pacific region by Financial Times.
Through these ventures, in addition to transforming commercial real estate in India, Rishi pioneered the concept of collaborative campus recruitment and continues to play a very active role in fostering a strong industry-academia ecosystem in India. His balanced approach of empathy and business acumen is one of the many reasons that he has been invited to speak at many industry forums like NASSCOM, CII and TiE – of which he was also a Charter Member.